Welcome Activators!
What's New? Highlights:
2023/11/05 - BETA V1.2.0-65 available, see Changelog
2023/10/17 - CWSL_DIGI v0.88+ adds support to SOTAmat and vice-versa
2023/09/05 - New Statistics page added to web site
2023/07/17 - Partial Support for new Bullitt Satellite Messenger
2023/07/10 - SotaPostAlert (2-way) supports "now" and "+<hours>" options
2023/05/29 - SOTAmatSkimmer now supports SparkSDR and WSJT-X 
2023/04/23 - New: Run a home SOTAmatSkimmer with Beta WSJT-X plugin 
2023/04/09 - New: Getting started video based on latest V1.1
2023/02/22 - V1.1: Apple App Store, Google Play: Offline Peak/Park Db, Login...
2023/01/29 - New: Service Health Check page to track outages
2023/01/26 - New: Specify custom callsigns to post SOTA/POTA spots/alerts.
2022/12/16 - New: FT8 audio generation built-in! No 3rd-party app needed.
2022/11/15 - New: SMS/eMail/inReach services added. See docs here.

See Changelog / release-notes page for details.
Android Issue
Certain Android users report an issue with the new login & configuration loading feature. If you get an error "configuration invalid", use the manual "configuration blob" approach.
Introduction
SOTA (Summits-On-The-Air) and POTA (Parks-On-The-Air) are awesome awards schemes that give points for hiking up mountains or visiting parks and making amateur radio (ham radio) contacts. They combine exercise, vistas, emergency drill practice, self-competition, and social benefits, Learn more from Outside Magazine's SOTA article and the official SOTA organization, and from the official POTA organization.
Have you tried activating a SOTA peak or POTA park but had trouble self-spotting? Do you feel 'dirty' self-spotting an amateur radio activity with non-amateur cell-phone or satellite methods? Do you wish you had a simple way to find Summit-to-Summit (S2S) and Park-to-Park (P2P) opportunities in the moment? Do you wish you could send a message to a friend, but cell and APRS services were spotty in the mountains?
What SOTAMĀT does:
SOTAmāt (pronounced "sota mate", like "automate") automates a variety of SOTA and POTA activities, including:
One-way commands sent via HF radio (works without internet, cellular, or satellite):

Self-spotting (SOTA and POTA)
Self-alerting especially for CW operators wishing to "tickle" RBNhole (SOTA)
Select and send predefined SMS or eMail messages to predefined recipients

Two-way commands sent/received via SMS, eMail, or Garmin inReach:

Find Summit-to-Summit (SOTA S2S) or Park-to-Park (POTA P2P) opportunities with recent spots reports

Post a spot (SOTA and POTA)
Post an alert especially for CW operators wishing to 'tickle' RBNhole (SOTA)
Get an upcoming alerts report (SOTA)
Get information on Peaks, Parks, and Callsigns (SOTA and POTA)
Get Weather forecasts specific to SOTA peaks and POTA parks
…and more…
Two-Minute Video Intro
Self-Spotting and Alerting via HF (no computer needed)
The SOTAmāt server listens to PSKreporter for reception reports of your (preregistered) callsign with a special SOTAmāt suffix (specific to your personal SOTAmāt configuration). This callsign suffix encodes a command for SOTAmāt to execute (such as a self-spot for a particular summit-ID or park-ID, or to send an eMail message).

In the field (without cell service) you use the SOTAmāt mobile application (iOS or Android) to compute a callsign suffix based on your preregistered personal configuration and the command you want to execute (ex. a self-spot of W6/NC-001 14.227 MHz SSB). You then transmit a message using any method that will report your callsign + suffix to PSKreporter. For example, you can send your message using FT8, FT4, PSK31, RTTY, or any method that preserves the callsign and suffix when reporting to PSKreporter. The SOTAmāt app has FT8 audio generation built-in and is by far the easiest and most reliable method.
For example, if my account were configured correctly, this FT8 message:
STM AB6D/14CL
Might self-spot me as follows (on SOTA Watch):
AB6D on W6/NC-423 14.277 SSB [SOTAmat.com by FT8] Freq +/- if QRM. (via KF7PRQ via AB6D)
And the hardware is quite simple, especially when operating QRP (low power):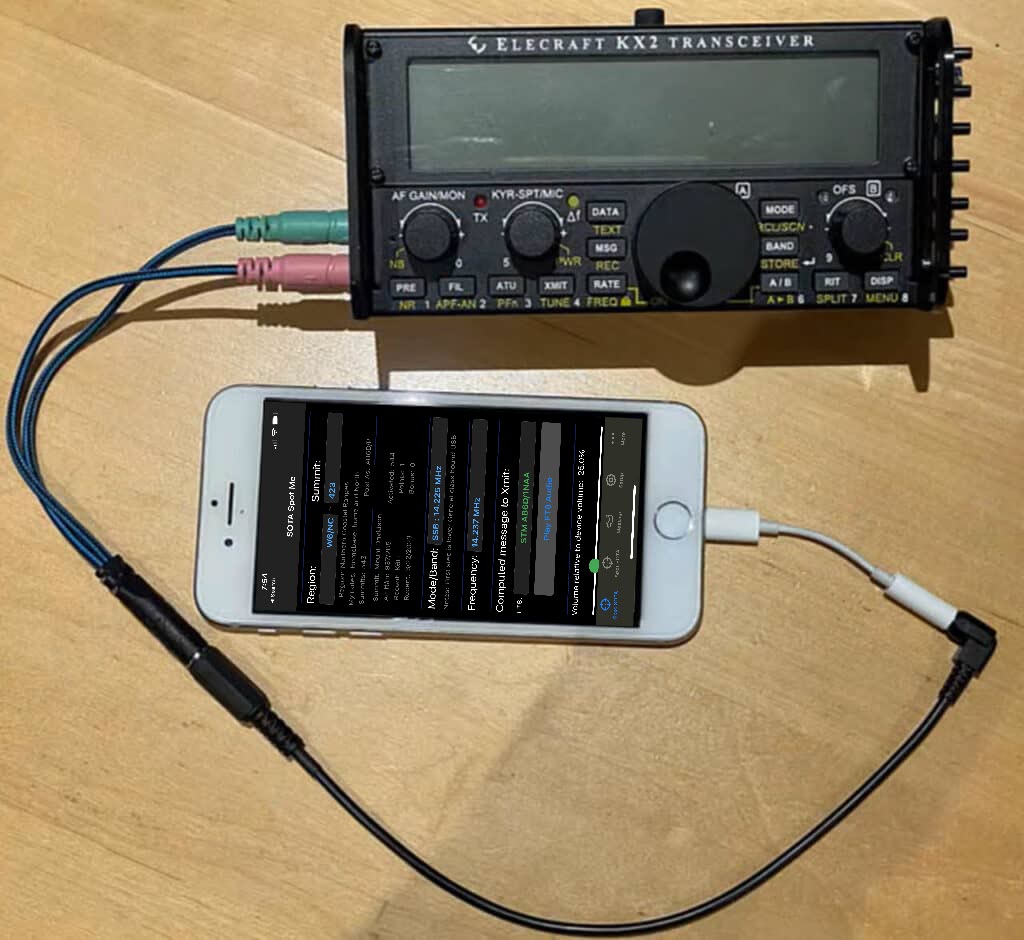 …in fact you don't even need a cable from the mobile phone to the radio. Unless there are strong winds, you can just have the mobile phone speaker play the FT8 sounds directly into your radio's microphone (see the FAQ article on how to improve the signal-to-noise ratio when cable-free to make sure you don't transmit background noise or create band splatter that interferes with other operators).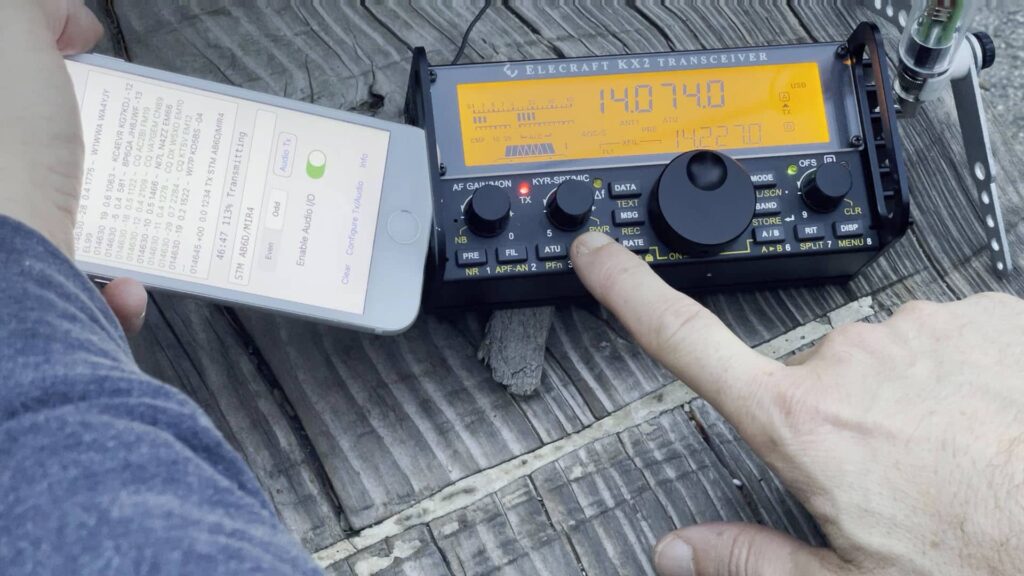 Unfortunately not all monitoring software preserves the suffix on the way to PSKreporter, such as CW (the most popular RBN CW 'skimmer' monitoring software doesn't know how to discriminate between callsign suffixes-as-locators vs. suffixes-as-indicators). I find the most reliable (and known to work) approach is to use FT8 (there just aren't many PSK or RTTY monitoring stations left these days). I normally transmit my FT8 message 3 or 4 times, and the SOTAmāt mobile app helps you do this automatically.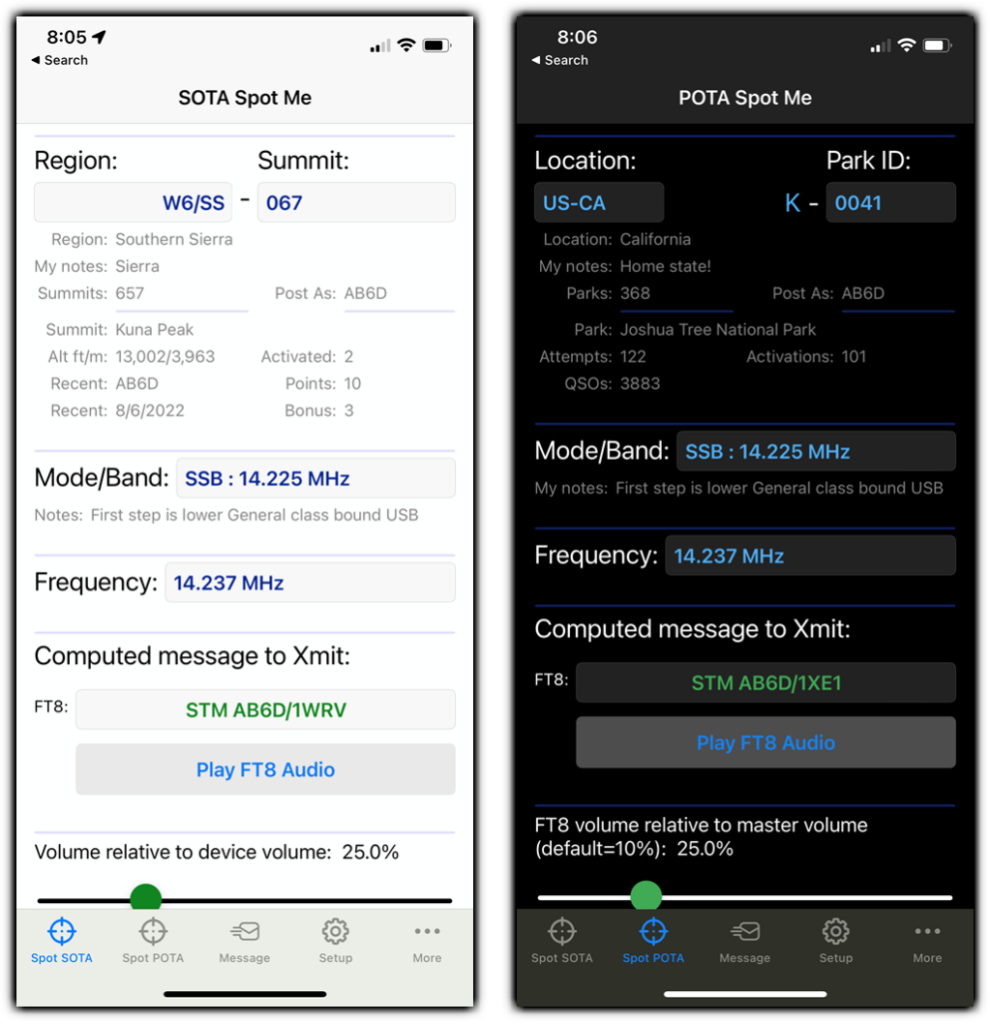 [Technical Note: normal FT8 CQ messages do not allow a callsign suffix (not enough 'C28' bits). SOTAmāt uses FT8's 13-character "free text" mode to encode both callsign + suffix, but only the SparkSDR monitoring software reliably extracts callsigns + suffixes from such messages. That's OK since FT8 travels 1000's of miles using QRP. I find that I'm able to reach at least one SparkSDR based monitoring station reliably (normally 3 or 4 will hear me) if I transmit my FT8 message 3 or 4 times. Your experience may differ. In really tough conditions (sunspot cycle blackouts?), you might need to send your FT8 message on different bands (start with 20M and always use SSB-USB). I've always gotten through if I'm patient and re-transmit the SOTAmāt message a few times.
Want to help the SOTA and POTA communities? Run your own monitoring skimmer that is compatible with SOTAmat!
Sending SMS and eMail messages via HF
Certain callsign suffixes instruct SOTAmāt to send predefined SMS text messages on your behalf. The process works the same way self-spots work: you first pre-configure a set of SMS messages on the web site and load them into the mobile app for offline use. In the field, use the mobile app to select a predefined message and the app will compute the corresponding callsign + suffix. Send the message using any means that will arrive in PSKreporter with the suffix unchanged (such as with an FT8 mobile app). In about 5 minutes or less your SMS message should be sent.
NOTE: SOTAmāt should not be used for life safety situations. The service is not designed for highly reliable message delivery. It does not use professionally designed systems or architectures. It is not a replacement for satellite communicator devices. Use of the service is at your own risk! The system is not guaranteed or warranted to perform. It is built and run as a hobby by its creator. That said, it is better than nothing at getting a message out!
---
---
2-Way Services (via SMS, eMail, or Gamin inReach)
In the cases where you do have cell service or a satellite communicator (such as a Garmin inReach), you can send a specially formatted SMS message to +1-601-SOTA-MAT (+1-601-768-2628) or eMail to<CALLSIGN>.<PIN>@GO.SOTAMAT.COM in order to perform a number of commands.
See the full documentation on 2-way services, as there are many commands not shown here.
Here are some examples of 2-way communication with the +1-601-SOTA-MAT (+1-601-768-2628) service: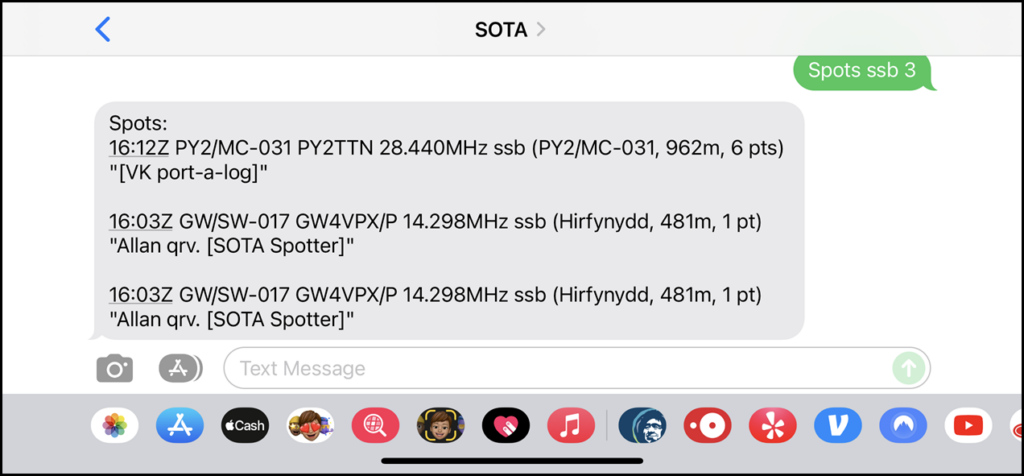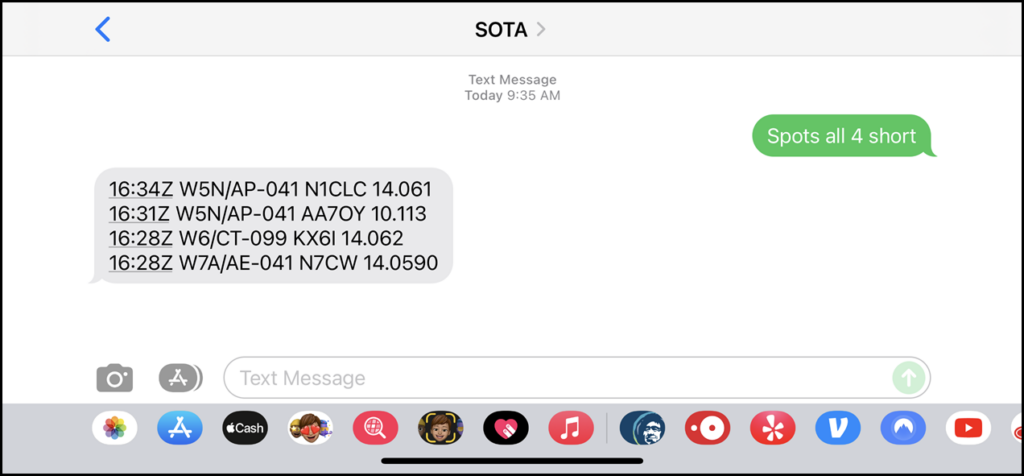 NOTE: the SMS service costs me money to operate, and only operates in certain countries. Email has the same functionality as SMS and costs me nothing (and works in all countries). For now I'm happy to pay the SMS fees for the benefit of the community. It is OK to send a few SMS test messages when you are learning how to use the service, but after you understand it please only use the service for real SOTA/POTA work (don't waste it!), or use eMail instead.
See the full documentation on 2-way services, which has a lot more detail and a full list of commands.
---
---
Get started
If you are new visit the Getting Started page with step by step instructions. If you get stuck, I'm here to help.
73 DE AB6D